Just came across this video of Upper Bidwell Park filmed by Josh Lang using one of those fun drones (AKA UAV or "Unmanned Aerial Vehicle")  and a GoPro camera. (Isn't technology great?!)  The video includes such popular spots as Bear Hole, the Yahi Trail, and North Rim Trail (check out "Monkey Face" at app. 33 second mark; can you make out the monkey's profile?).  Bidwell Park is truly a Chico treasure, with over 3600 acres of trees, trails swimming holes and creeks, which extend from Upper Park all the way through town, passing the CSUC campus.  It is one of the largest municipal parks in the country, and we have Annie Bidwell to thank for it.
As gorgeous as our park is, it is not without its hazards.  There is the occasional rattlesnake to avoid (make plenty of noise as you hike!), especially as the weather warms up.  And there have been mountain lion sightings, as this recent Chico E-R article warns.  (Sadly, the hiker's dog–apparently in protective mode–did not make it out alive.) While they typically avoid us human-like creatures, if you see a mountain lion, remember:  DON'T RUN!  Raise your arms to make yourself appear larger and shout at the animal to scare it away.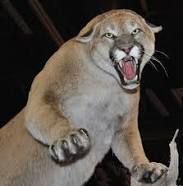 But one of the biggest wilderness pitfalls is injury, whether due to hiking accidents or risky activity in the cliff and swimming areas.  HikeSafe.com lists safety precautions and other helpful information such as hiking with your dog.
Chico is SO lovely in the springtime.  So get out there and enjoy…and be safe!