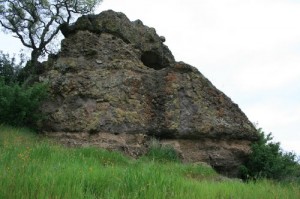 MONKEY FACE. Very descriptive. I'm thinking this photo pretty much explains the name. During our 4th of July reunion, some of the fam and I were doing the "Green Gate" hike and were discussing various sites along the way. At one point a certain "Bay Arean" in the group remarked on the originality and imagination shown in the naming of such landmarks as "Monkey Face," "Green Gate," and "Salmon Hole."
"So," he said, "It looks like a monkey face, so it's 'Monkey Face.' It's a hike that begins at a green gate, so it's the 'Green Gate Hike.' It's a swimming hole with salmon, so it's 'Salmon Hole.' Well, you get the drift.
Strolling from "One Mile" the other day (so named because it is one mile from Bidwell Mansion) to "Cedar Grove" (you can guess why) in "Bidwell Park" (could that have something to do with Annie?), I had to smile.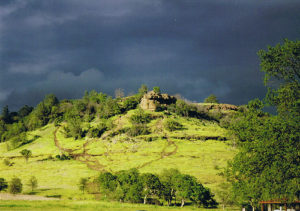 Note: If you're looking for something fun to do in or around the North State this summer, check out this CN&R article. It's not from a current issue, but it still has some great ideas!