The Secret is out!   There is a very cool new place to nosh and natter after work, and–lucky me–it is JUST UP THE ROAD from our W. M. Campbell Real Estate office!  Wine Time made it to Henri Bourride's restaurant review column in today's Chico News & Review, where it earned a four-star rating. (Based on my several recent visits, I'd give it a FIVE, but hey, I'm pretty easy to please.)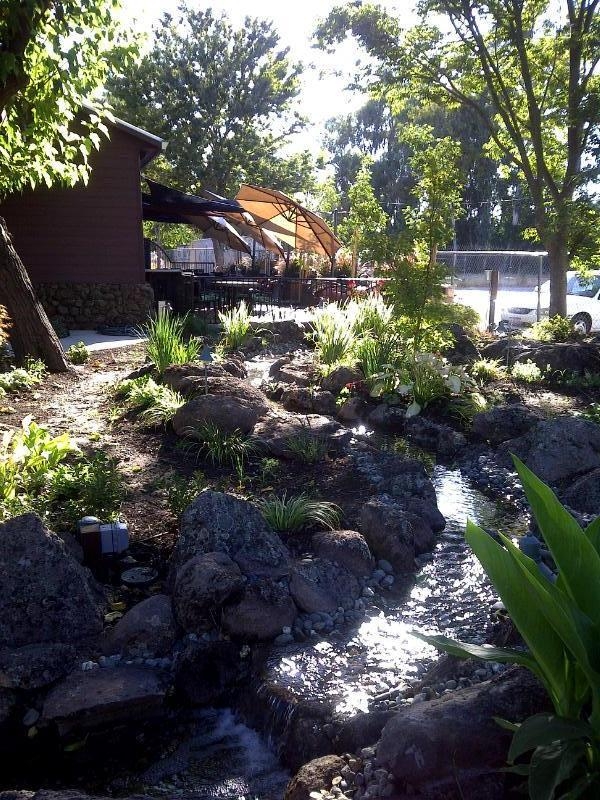 This gem is hard to find but worth the search.  Located in a big, ancient refurbished barn at 26 Lost Dutchman Drive (behind Roots Catering at 3221 Esplanade, across the street from Philadelphia Square), it truly is a tucked-away Shangri-La.  Owners Gay and Bob James (whom I know from my previous life as a Butte Creek Canyonite) have created a little oasis where art meets gastronomical delight; more Napa-like than your typical Chico eatery, in my opinion.
How great to have another venue for patio dining, complete with pond/stream and colorful umbrellas.  The artsy barn interior features Gay's amazing mosaic and stained glass art, painted concrete flooring, and original hand-hewn beams dating back to the structure's hog barn days. (During our first visit, I dubbed it "Swine Time," in honor of its beginnings…don't think the "pet" name will catch on, though.)
Thus far I have sampled several very nice wines as well as two "small plates": a mushroom appetizer that was pretty much to die for, and the Greek antipasto plate with a delightful array of olives and cheeses and a generous helping of "ahmonds" with undetermined-but-tasty coating.  Apparently the menu is ever changing, with many ingredients from local sources (which is always a big plus in my book!).
During a recent visit, I noticed work being done to the adjacent building and inquired about it.  Apparently an art gallery of sorts will be housed there, for local artists to display their work.  Looking forward to the opening!
Wine Time is open 3 – 11 p.m. Tuesday through Saturday.  "Like" the Wine Time page on Facebook for fun updates.