I had the pleasure of attending the opening night of MonCA's first "Pop-Up*" art exhibit on April 6th at 325 Broadway  (one of those cool old brick storefronts that is just "so Chico").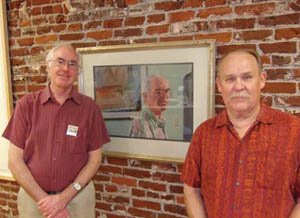 If the works of art on exhibit (just a fraction of the collection) are any indication of the quality of art that has been purchased for decades by local collector Reed Applegate, Chico is in for a real treat as these "pop-ups" continue.  (Mr. Applegate has generously donated his collection so that the public may enjoy the fruits of years spent investing in Northern California art.)  Click here to view some of the wonderful works.
My friend Trudy Duisenberg (along with the other MonCA Board members and volunteers) has put in countless hours working to bring this collection out into the open for all to enjoy.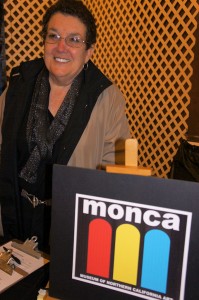 MonCA is currently working to raise funds to purchase a van (Mobile Museum) to share the art with  schools, retirement communities and other local organizations.  Donations can be made here.  (Ultimately they hope to find a permanent location for the collection.)
(*Pop-Up museums are temporary art installations in nontraditional settings.  The Pop-Up at 325 Broadway continues through the month of April, Wednesday-Sunday, 11 a.m.-6 p.m. (open till 8 p.m. April 12, 13, 19, 26).   Where will the next one be?  Stay tuned…)