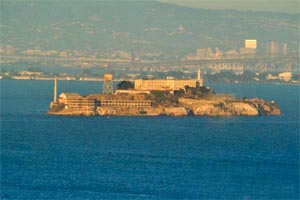 What does ALCATRAZ have in common with Chico State?  They both have historic buildings, and they both have CSUC students working diligently in and around those buildings!
Eight interns from CSUC's Concrete Industry Management Program (one of only five such university programs in the U.S.) tackled the job of repairing concrete on the infamous island these past few months.
The park service was so thrilled with the results from last year's internship that they signed an agreement to bring the students back every summer for five years.
The students are paid for their work, with funds coming from BASF (a leading chemical company) as well as the park service.
Says CIM Director Tanya Wattenburg Komas:
"It's an amazing opportunity for the students; it's really a once-in-a-lifetime, unforgettable experience. Our students have a classroom and laboratory education, but this is their opportunity to apply it in the real world. Alcatraz on your résumé is not a bad way to go."
Here's Part 1 of a short video of Dr. Komas making a presentation to "Women in Concrete":
<iframe width="420″ height="315″ src="http://www.youtube.com/embed/a62zHtPyijI" frameborder="0″ allowfullscreen></iframe>
Kudos to Doug Guerrero, Chairman of the Chico State CIM Patrons, for working so hard to bring this concrete program to CSUC!