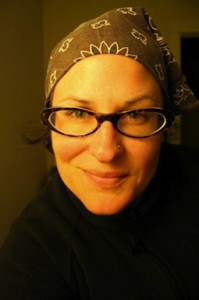 Caitlin Schwerin, my favorite formerly-of-Chico-relocated-to-Portland artist is exhibiting at one of my favorite downtown eateries, Monk's Wine Lounge & Bistro.
I first came across Caitlin and her lovely art during the annual Chico "Open Studio" tour.  She had a home studio at that time, and her work was hanging on every wall with surplus pieces stacked against said walls.  It was like walking into a candy shop for the eyes!  Wonderful, textured, fanciful pieces bursting with the most extraordinary combinations of lush, earthy colors.  And there was Caitlin, bursting with a captivating energy so palatable I felt I was gliding rather than walking from one piece to the next.  Somehow she managed to "paint" that joyful energy onto those canvases.
As if her paintings aren't whimsically wonderful enough, they typically come with a fun title and sweet little story.  One small sample:
I woke up late this morning. My window was wide open and I could hear the rain outside, which is such a seductive lullaby.
Check out Caitlin's website to see more samples of her delightful creations.  And stop in at Monk's soon to see the real thing.  (The food is delectable, the wine selection a treat, and springtime on their back patio is mighty fine!)