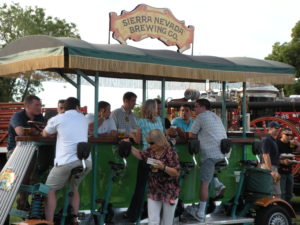 Party on, Sierra Nevada! At its annual Industrial BBQ last night, the Chico Chamber of Commerce honored Sierra Nevada Brewing Company founder Ken Grossman for his many contributions to the Chico community and as a leader in sustainability.
The Silver Dollar Fairgrounds
was literally packed with enthusiastic celebrants and several local businesses displaying their products, such as:
* Greenfeet (offering a plethora of Earth-friendly products)
* Klean Kanteen (eco-friendly personal hydration vessels)
* R. W. Knudsen (great juices)
Live music filled the air, as well as friendly competition from the various volunteer groups participating in the tri-tip cook-off. I got to see the pedal-powered beer bar in action toward the end of the evening–reminded me of some of the contraptions at the "Great Arcata-to-Ferndale Kinetic Sculpture Race" held every year on Memorial Day weekend> (I'm betting this one isn't seaworthy, but then it may be the only "kinetic sculpture" with Sierra Nevada ale on tap!).
Kudos to Ken Grossman for 30 years of helping to keep Chico one of the best places on the planet! (Check out the photo below of the poster Greenfeet displayed. Someone suggested printing up some t-shirts with this slogan; I think it's a great idea!)