Q: What is 1,000 years old, weighs two tons and hangs out in a monastery/winery?  (No, the answer is NOT "ChicoLaura"!) A: One of the "sacred stones" being used to construct the "Chapter House" at the Abbey of New Clairvaux in Vina, CA (just 20 miles north of Chico).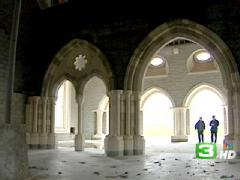 Our Soroptimist of Chico club was treated today to a fascinating presentation by Jerry Olenyn and Karla Johnston, representing the Sacred Stones Project at the Abbey of New Clairvaux.  Who knew stones could be so interesting?
Moved in 1931 from a Cistercian monastery in Ovila, Spain to San Francisco by millionaire publisher William Randolph Hearst at a cost of $85,000, the stones were intended to be used at Wyntoon (his estate near the McCloud River).  He even had a structure designed by famed architect Julia Morgan (who designed his San Simeon estate).  But then came the Great Depression, and the stones sat languishing for decades in Golden Gate Park, where some of them were used as borders in the Japanese Tea Garden.
Then In the 1990s, the stones were given to the New Clairvaux monks, who started using them to reinforce their monastery buildings with concrete and steel to meet modern earthquake codes.  A few years ago the monks embarked on a huge undertaking: reconstructing the Chapter House on their spacious grounds.
Read more about the reconstruction here: http://www.kcra.com/news/18779644/detail.html#ixzz1nA4uph7z
In 2010, Chico's legendary  Sierra Nevada Brewing Company announced its joint venture with the Abbey of New Clairvaux to begin production of Belgian-style abbey ales.   Named "Ovila" after the 12th century Cistercian monastery, Santa Maria de Ovila, the ales have proved wildly popular.  Part of the profits go to help with the Chapter House reconstruction.
It's been years since I visited the monastery, but I definitely plan to go in the near future.  Click here for info about day visits; you can also schedule a weekend retreat if you are really wanting to get away from the hustle and bustle of everyday life in our techno world!