Welcome to our CITY OF TREES REALTY web site!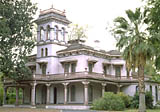 City of Trees…such a perfect pet name for our lovely little college town.  Nestled in the Sacramento Valley between the Sierra Nevada range to the east and the coastal range to the west (about 90 miles north of Sacramento), Chico is home to California State University at Chico (CSUC) as well as Bidwell Park, the amazing 3600-acre park (named for founder John Bidwell) running right through Chico, complete with the sparkling Big Chico Creek.  "The Park" is truly the crown jewel of Chico. If you are a nature lover, few small towns can compare in opportunities for outdoor activity.
The now-world-famous Sierra Nevada Brewery (with it's charming restaurant, outdoor patio dining and "Big Room" concert venue) also calls Chico home.  Additionally, Chico has been cited in numerous publications as a:
In creating and maintaining The City of Trees Web Site, our goal is to provide the reader with interesting information about our unique town as well as a photo tour of the many lovely sites.  We also offer an easy way to search the net for real estate.  We love to update the public about Chico people, places and things, so be sure to check out our BLOG when you have a few minutes.
Whether you are looking to buy or sell a home in the Chico area, we are happy to help.  We'd love to hear your feedback on our web site and will gladly address any questions you have about our special "City of Trees"!