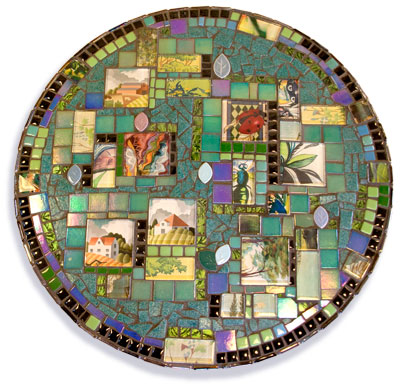 It was during ARTOBERFEST in Chico several years ago that I discovered the gorgeous, whimsical work of local mosaicist Cooie Grey-Lavin.
  Eva (my daughter-in-heart) and I were spending the day enjoying the
Open Studio Tour
, and I knew I couldn't miss this particular artist (as I had long been interested in this art form).
Boy were we in for a treat!  Cooie's home, studio and yard are like one giant work of art in and of themselves!  Walking through her garden is like floating through a dream, with it's enchanting mosaic creations peeking out from among the lush foliage.
And her studio! A plethora of sparkling, intriguing odds and ends that inspire creative artistry.  Suffice to say I was promptly sucked into the mosaic art vortex and began haunting the local thrift  and tile stores and yard sales for usable pieces and trinkets.  Soon thereafter I took one of Cooie's mosaic classes (followed by several more over the past several years) and loved every minute of it. Check out some
photos from the class
and this
YouTube video for a 2-minute instructional video
Cooie did about getting started with mosaic stepping stones.  You can browse
Cooie's web site
for more photos of her exceptional work.
Speaking of art, check out the
Artoberfest guide
to see a schedule of the 150 art exhibits, performances and special events happening in Chico this month.  (There is a reason Chico has been recognized as one of the
best small arts towns
in the country!)
This year's
Open Studio Tour
is Oct. 22/23 and 29/30.  Don't miss it; you may find some life-changing inspiration yourself!