Last week a group of us attended the 2nd Annual Performing and Fine Arts Gala at the new CUSD Center for the Arts here in Chico.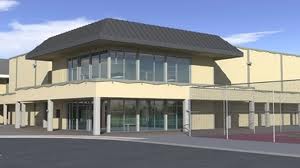 Wow, were we impressed (with both the new facility and the performances)!  Located  at the Pleasant Valley High School campus at  1475 East Avenue, the facility seats 484 people and is available to citizens and community groups for meetings and public activities.
It was great to see Chico area students (elementary through high school) engaged in all sorts of creative activities, including singing, musical instruments, drama, and different forms of dance.  Prior to the live show, we were treated to some delectable treats made by the PV High Culinary Class and a slideshow of students' art (painting, ceramics, mosaic art, etc.).
Arts for All (check out their Facebook page here) is a component fund of North Valley Community Foundation.  Donations are tax deductible.
Kudos to the students, teachers, administrators, parents, and the Chico arts community for working together to keep the arts alive for our youngest citizens!